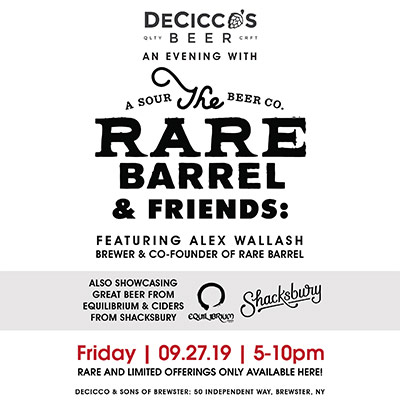 About
Location: 50 Independent Way, Brewster, NY 10509
Date: 9-27-2019
Time: 5:00pm – 10:00pm
Facebook Event Page
Details
Please join us Friday September 27 from 5pm-10pm for a special night of The Rare Barrel & Friends, featuring The Rare Barrel, Equilibrium Brewery, and Shacksbury Cider.
Joining us will be Alex Wallash, co-founder of the Rare Barrel. Started back in 2013, they have been producing some of the finest sour beers, in their never ending quest to search out the perfect "Rare Barrel". We excited to be pouring a few of their
"Rare Barrels" this evening.
Also on tap will be beers from Equilibrium, who brews beer that combines Research and Inspiration to balance drinkability with massive flavor.
To round out the lineup, we will be featuring some ciders from Shacksbury Cider from Vermont who believe believe cider can, and should, be daring and complex. From gnarled trees on New England farmsteads to Old World orchards in England and Spain, our cider will change the way you think about this amazing fruit.
Event Tap List
The Rare Barrel Map of the Sun 2019
The Rare Barrel Galicoe Cat
The Rare Barrel A Wish For Wings That Work 2019
Equilibrium dHop5
Equilibrium Energy Equals
Equilibrium Fluctuation
Shacksbury Dry Cider
Shacksbury Dry Rose
Shacksbury Arlo
Event Page