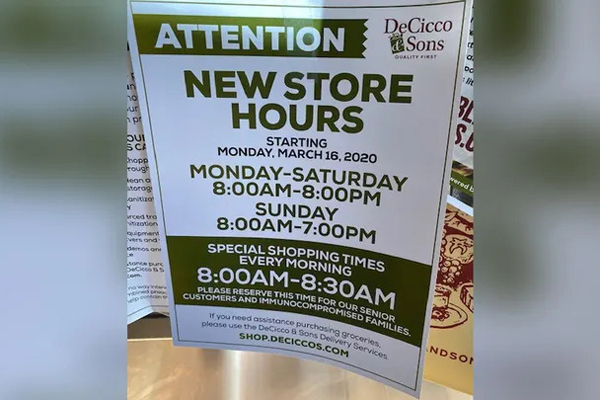 Posted on March 16, 2020
in
News
DeCicco & Sons, other supermarkets offer early hours for seniors, immunocompromised customers
Grocery stores are stepping up to help the most vulnerable shoppers.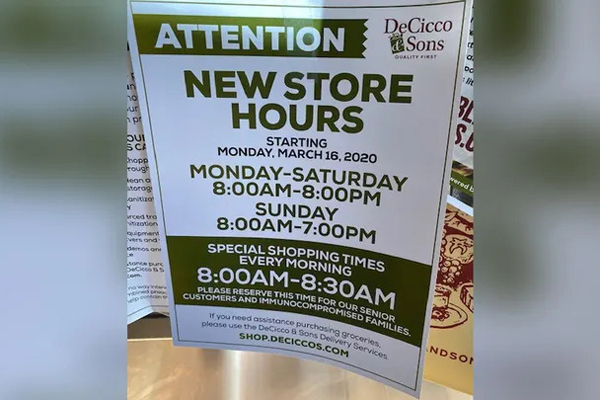 Heather Clark
Stop & Shop and DeCicco & Sons will offer special shopping times for those most at risk of contracting coronavirus.
Starting today, all DeCicco & Sons locations will allow just senior citizens, ages 65 and older, and families with immunocompromised members to shop between 8 and 8:30 a.m. each day without worry, as there will be limited access to the stores.
"We're requesting that all our patrons respect this time for seniors and people with immunocompromised families," Chris DeCicco said. "We're staffing people at the entrance to remind guests of this request before entering and will have clear signage on our doors. We'll be continuing to evaluate, and we may adjust the policy and hours as needed. We're listing closely to what the community is saying during these changing situations."
For regular customers, store hours have been extended from 8:30 a.m. to 8 p.m. Monday through Saturday and 8:30 a.m. to 7 p.m. Sunday.
DeCicco & Sons recommends, if at all possible, shoppers use their online ordering and delivery system, shop.deciccos.com, or have someone shop for you.
Stop & Shop
Stop & Shop has announced they will be adjusting their hours, as well, beginning Monday.
Stop & Shops' hours are 7:30 a.m. to 8 p.m. at most of the chain's stores. As of Thursday, from 6 to 7:30 a.m. only customers age 60 and older will be permitted to shop.
"Although Stop & Shop will not be requesting ID for entry, they request that we all respect the purpose of the early opening — and do the right thing by our older neighbors," the company said in a release. "Stop & Shop will reserve the right to ask customers to leave if they are not a member of this age group."
Any stores taking similar steps to ensure the safety of their customers and the community can reach out to reporter Heather Clark via email, hclark@lohud.com.
DeCicco & Sons is offering special early hours for senior shoppers during the coronavirus outbreak
DeCicco & Sons locations
Ardsley: 21 Center St.
Armonk: 17 Maple Ave.
Brewster: 50 Independent Way
Harrison: 7 Halstead Ave.
Larchmont: 2141 Palmer Ave.
Millwood: 230 Saw Mill River Road
Pelham: 43 Fifth Ave.
Somers: 266 Route 202
See Source Article