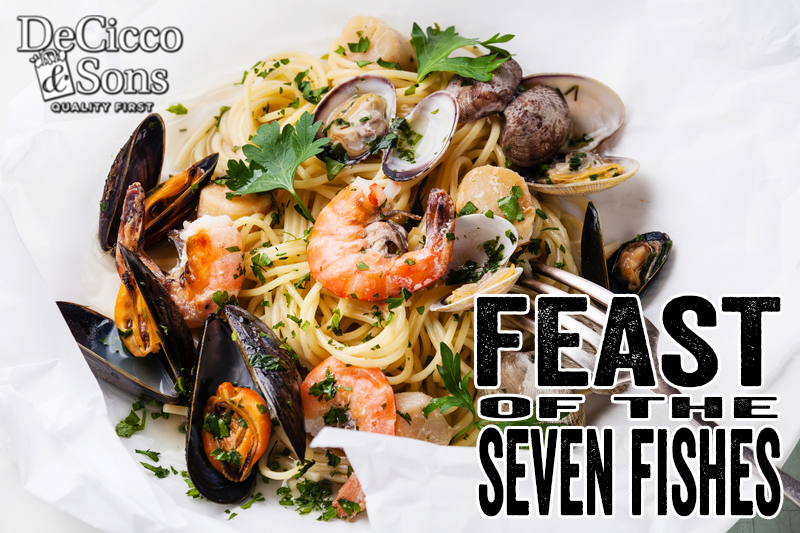 Christmas Eve dinner is synonymous with Seafood.  However, for many Italian-Americans it represents an important meal steeped in religious traditions with the ever present undertone of abundance that many generations of Italian immigrants share.  Today, it is know colloquially as "The Feast of the Seven Fishes."  As the name suggests, it is a meal focused around all things aquatic and not just fish but bivalves, crustaceans, and cephalopods.  There is no set menu and it is very common to exceed 7 dishes.  Join us over the next 7 days as we highlight one main seafood ingredient a day and hopefully inspire your Feast.
---
---
Faroe Islands Salmon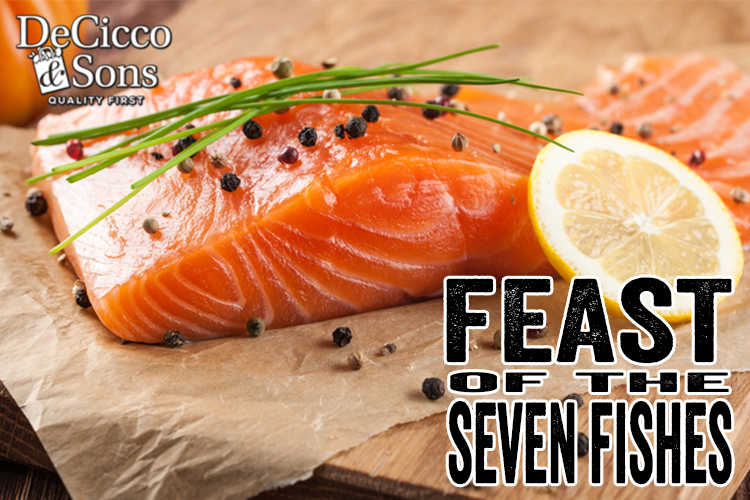 Before we dive into the world of more exotic seafood, we are going to kick the week off with a crowd favorite: Salmon.
Wild-Caught Salmon is considered the highest in quality.  It expresses the true nature of the fish – deep orange color, firm meat, depth of flavor, and high amounts of Omega-3's.  However, the season for Wild Salmon is only a few months out of the year.  As a result, the majority of salmon on the market is farm-raised.  However, the quality of farm-raised salmon can differ dramatically.  We fly our salmon in directly from the Faroe Islands where they farm raise their salmon in Ocean Pens – exposed to their natural environment.  We find this to be the most sustainable way to offer a high-quality, farm-raised salmon, available fresh ALL year.
Salmon is relatively easy to prepare.  Baked, broiled, pan fried, or poached – it pairs up nicely with citrus and a number of herbs and spices.  For your New Years Eve Feast, try it as an appetizer dip.  Lightly season and bake until the meat flakes.  Once it's cooled, mix with your favorite binder; mayonnaise, creme fraiche, or greek yogurt, and add a dash of Dill or Tarragon.  Serve with toast points or crackers.
---
Shrimp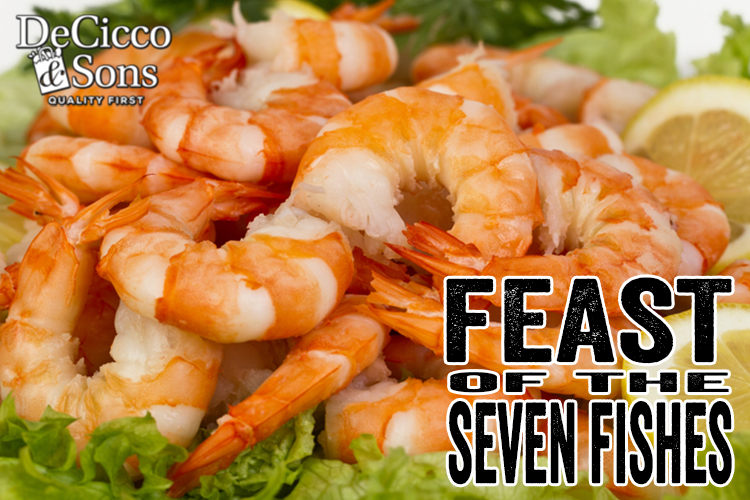 Day 2 of our 7 day seafood journey brings us to our discussion on Shrimp.
Shrimp is extremely perishable and the majority of the supply is farmed in Asia.  That is why nearly all shrimp sold is either frozen or previously frozen.
True 'fresh shrimp' is wild caught from the Gulf of Mexico.  Because it is a fresh product and the production methods are expensive (wild caught vs farmed) the cost is significantly higher.
These factors typically make it less appealing for consumers and retailers alike.  To divert a larger discussion on Country of Origin and sustainability practices, we will delve into cooking!
There is a time and place to buy pre-cooked shrimp.  Next time you are buying or enjoying pre-cooked shrimp be sure to be mindful of the size, firmness, and overall flavor.  The quality of cooked shrimp varies drastically.
For all other occasions, take the time and buy shell-on shrimp.  The shell protects the meat during the freezing and thawing process.  It can also add flavor if you are cooking with the shell.  Not to mention it's less expensive.
You will notice a difference immediately.  For a restaurant-stye Shrimp Cocktail, use raw, headless, shell-on shrimp.  Peel and de-vein the shrimp, leaving the tails on (reserve the shells).  Lightly poach the shrimp and shells in a broth seasoned with your favorite aromatics (onion, fennel, lemon, white wine, celery, tarragon, ginger, parsley).  Cook until the shrimp are firm.  Remove them from the liquid and leave in the refrigerator until they are chilled.
---
Baccalà (Salted Cod)
Cod has been an important food source throughout history. The tradition of salt-curing it spans many millennia and countless cultures – bacalhau in Portugal, bacalao salado in Spain, makayabu in parts of Africa, klipfisk in Scandinavia, saltfiskur in Iceland, and morue in France. With the advent of refrigeration and accelerated shipping, the necessity of salt-curing fish is less a necessity these days. However, preparing for Christmas Eve is one way to preserve this tradition. Today we discuss the Italian treatment, know as Baccalà.
If you are planning on making this part of your feast you will need to start the process a minimum of 3 days in advance. Simply cover the cod in cold water and refrigerate. You will have to change the water daily, as many as three times, until the fish is re-hydrated and soft.
Baccalà lends itself to a variety of preparations.  For the uninitiated, and possibly intimidated, I would go with a fried recipe. You will get a sense of flavor and versatility of the cod, but the end result will somewhere between a crab cake and fish and chips.
Frittelle di Baccalà
Ingredients
1 1/4   pounds  salted cod fillet (pre-soaked)
3       potatoes (about 1 pound), halved
1       tablespoon      olive oil
1       onion   finely chopped
2       cloves  garlic, crushed
1/4     cup     finely chopped fresh flat-leaf parsley
1/2     cup     pitted green olives, finely chopped
1       egg
vegetable oil, for deep-frying
Once you have completed the re-hydrating process, place fish in a large saucepan, cover with cold water; bring to the boil uncovered.
Reduce heat, simmer, covered, 5 minutes. Drain fish, discard water; check for skin and bones (remove) then flake fish.
Boil, steam or microwave potato until tender; drain. Roughly mash potato in large bowl.
Meanwhile, heat olive oil in large frying pan; cook onion and garlic, stirring, until onion softens.
Combine fish, onion mixture, parsley, olives and egg with potato; mix well.
Roll level tablespoons of fish mixture into balls, place on baking-sheet lined with parchment paper; refrigerate 30 minutes.
Heat vegetable oil in deep skillet or wok; deep-fry fritters, in batches, until lightly browned and heated through. Drain on paper towels.
---
Clams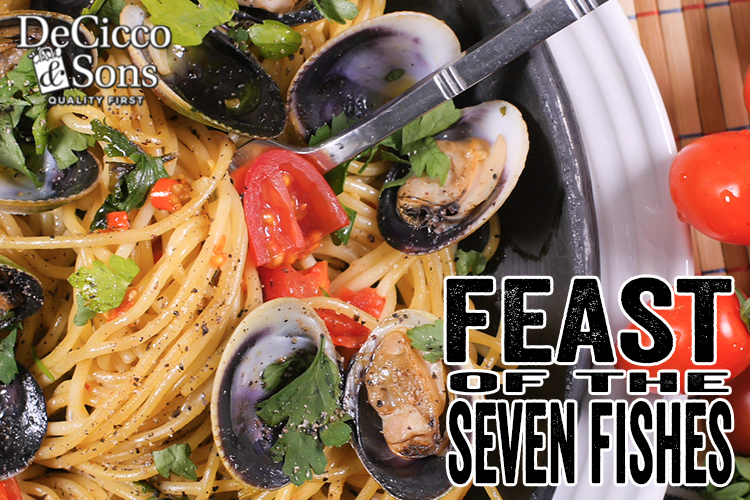 Rounding the corner of day 4 of our 7 Day Seafood Journey are Clams!
There is really only one major species of Clam that you will see out in retail stores.  However, based on the size it is classified as one of the following; [From smallest to largest]:
Little Neck, Cherrystone, Top Neck, or Quahog.  Naturally, the larger the clam the older.  This directly affects the tenderness and, therefore, cooking method you should apply.
Smaller clams lend themselves to pasta dishes and eating raw on the half shell, mid-size to grilling and steaming, and the larger/older for chopping, stewing, and stuffing.
A relative of the clam is the New Zealand Cockle.  They typically come in smaller than little neck clams, but have an intense bright and briny flavor.  When preparing a pasta dish, such as Linguine with White Clam Sauce, I recommend a combination approach.
Fresh chopped clams (rather than canned) are readily available from your fishmonger during the holidays.  Save yourself a lot of time and effort and build your clam sauce with the chopped clams.  Towards the end of the cooking process, throw in a few handfuls of Cockles. Their colorful shells with give your dish the visual appeal of a fresh clam dish, but because they are small they won't take up a lot of space on your plate.
YIELDS 4–6 servings
INGREDIENTS
3 tablespoons kosher or coarse sea salt
1 pound linguine
12 tablespoons extra-virgin olive oil
4 cloves garlic, thinly sliced
1 cup finely minced fresh clams with their juice
4-6 Cockles per person (washed)
1 tablespoon plus 1 teaspoon red pepper flakes
1 cup dry white wine
1 (14-ounce) can whole or chopped tomatoes
1/2 cup fresh flat-leaf parsley, coarsely chopped (plus extra for garnish)
In large pot over moderately high heat, combine 8 quarts of water to boil and salt. Bring to boil, then add linguine and cook to 1 minute short of al dente according to package directions.
Meanwhile, in large sauté pan over moderately high heat, heat 6 tablespoons extra- olive oil until hot but not smoking. Add garlic and sauté until just golden.  Add chopped clams and 1 tablespoon red pepper flakes and sauté 1 minute. Add wine, tomatoes, and cockles.
Add fresh parsley and simmer, uncovered, just until clams open (discard any that remain closed).
Reserve 1/2 cup cooking water, then drain linguine and add to pan. Simmer, tossing occasionally, until linguine is just tender, about 1 minute. If necessary, add some of reserved cooking water to keep moist. Remove from heat. Add remaining 2 tablespoons parsley, 1 teaspoon red pepper flakes, and extra-virgin olive oil, tossing to coat. Transfer to serving dish and serve immediately.
---
King Crab Legs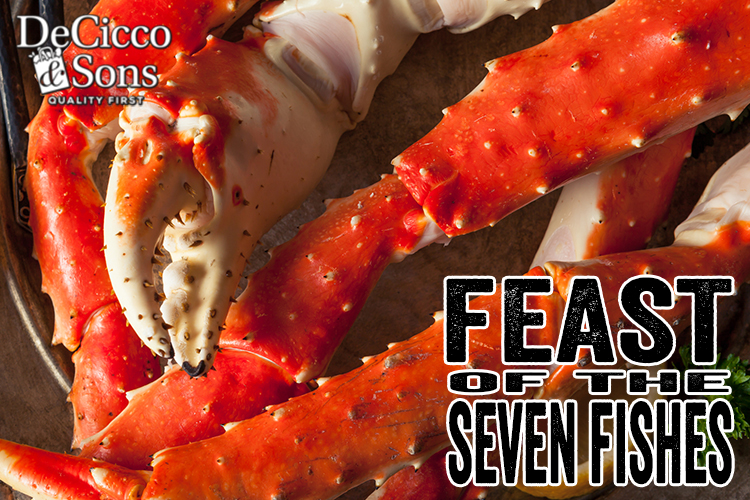 Day 5 of our seven day seafood adventure brings us to another fan favorite, King Crab Legs.
There are countless varieties of crabs available commercially and just as many different ways to prepare them. The most renowned variety is the Red King Crab. They are caught wild in the deep frigid waters of the Bering Sea. Their legs can grow to a span of 6 ft!
Each leg is dense with solid meat. The texture and flavor is unlike any other. The majority of king crab legs are brine-frozen at the source and shipped. To prepare for a recipe you simply need to thaw it. Typically, King Crab legs are served cold in the shell, or steamed and served warm. However, King Crab legs can be easily substituted for other varieties, like blue crabs. Check out this recipe for Crabs & Spaghetti.
1⁄3 cup extra-virgin olive oil
1 lb. thawed frozen cooked king crab legs, cut into 3″ pieces
3⁄4 crushed red chile flakes
8 leaves fresh basil, plus more for garnish
1 large onion, finely chopped
2 (28-oz.) cans whole peeled tomatoes, undrained
Heat oil in a 6-qt. pot over high heat. Add crab legs and cook, turning occasionally, about 5 minutes. Transfer crab to a plate. Add celery seed, chile flakes, basil, onions, and garlic to pot; cook, stirring occasionally, until onions are soft, about 9 minutes. Transfer mixture to a blender along with tomatoes and half-and-half and puree. Transfer puree back to pot over medium heat. Add reserved crab pieces and any juices from plate and simmer, stirring occasionally, for 30 minutes. Add lump crabmeat and continue to cook for another 15 minutes. Season sauce with salt, cover, and set aside.
Meanwhile, bring an 8-qt. pot of salted water to a boil. Add pasta and cook, stirring occasionally, until al dente, about 10 minutes. Drain pasta and transfer to sauce; toss to combine. Serve garnished with torn basil. Crack crab leg pieces to get at the meat inside.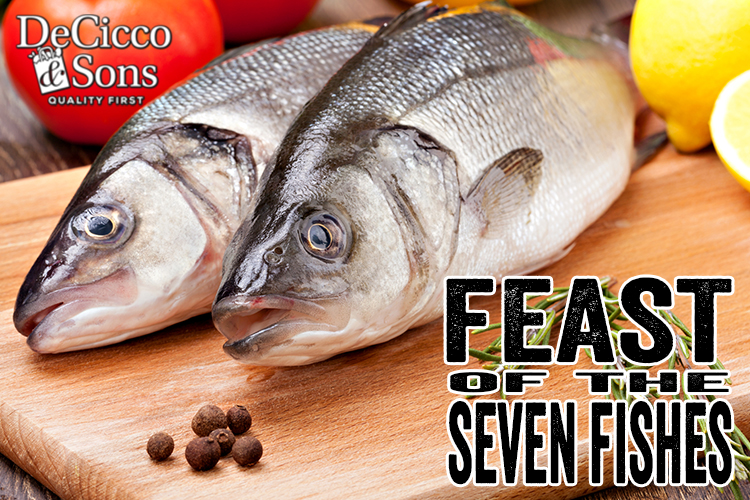 Cooking up a nice European Bass for your Christmas Eve dinner? No? Well, if you are serving Branzino this year, then that is exactly what your making. Presumably because it has a much nicer ring to it, in the US we refer to European Sea Bass by it's Italian name: Branzino.
Branzino are a migratory species that moves all throughout the Mediterranean Sea – from the Coast of North Africa all the way East, making its way into the Black Sea.
It has gained a lot of popularity over the years, simply due to the fact is has a mild flavor and the supply is abundant and consistent. It's size lends itself to whole roasting – a whole fish can serve about 2 people.
Check out this recipe for whole roasted branzino. Be sure to compensate for the serving size.
1⁄2 cup plus 2 tbsp. olive oil
3 lb. yellow onions, sliced
3 lb. fennel, sliced, fronds reserved
3 tbsp. finely chopped thyme
Zest and juice of 1 orange
Kosher salt and freshly ground black pepper, to taste
6 whole branzino, cleaned
Heat oven to 350°. Heat 1⁄2 cup oil in a 12″ skillet over medium-high heat. Add onions and fennel; cook until soft, 8–10 minutes. Add fronds, wine, thyme, and zest and juice; cook for 5 minutes. Season fish with salt and pepper; stuff cavity with 1⁄4 cup fennel mixture; tie fish closed with kitchen twine. Put remaining fennel mixture in a roasting pan; top with fish. Drizzle with remaining oil; bake until cooked through, about 30 minutes.