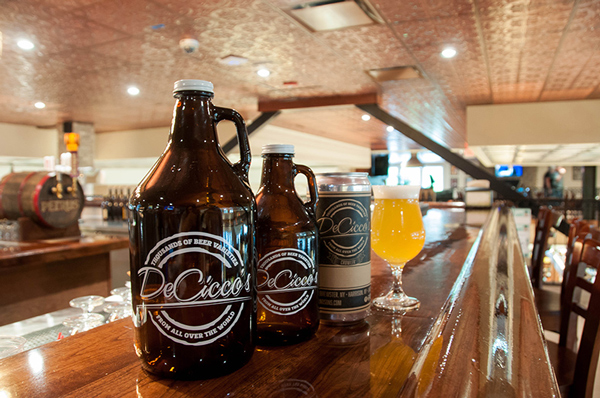 Posted on June 24, 2015
in
News
Finding Craft Beer-To-Go Is Easier Than Ever in Westchester
Craft beer in a food market? Is that your idea of shopping heaven?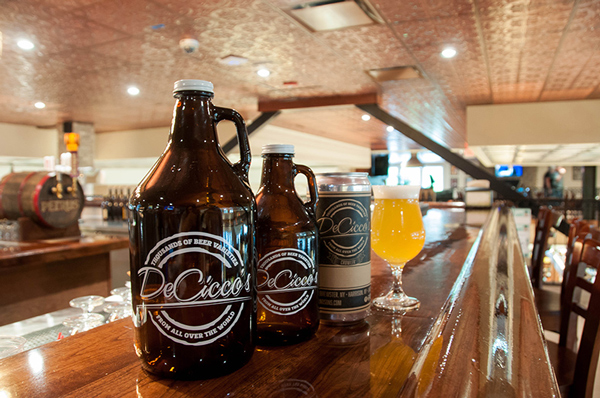 Brendon O'Brien
Not only can it happen, but it just became even easier. Thanks to DeCicco & Sons' boundless vision and creativity, not only can you avoid making a second stop when shopping for edible essentials for your next party or barbecue, but the blending of craft beer and convenience couldn't be easier or more fun!
Whether you're the party host or showing your gratitude to the host, your thoughtfulness will be greatly celebrated and appreciated. The handy DeCicco's Crowler lets you take home any craft beer from the food market directly off the tap. Simply go to DeCicco's bar, dubbed the Gastropub, at the center of the Armonk store (yes, there's a bona fide bar) and the bartender will fill a Crowler with the craft beer of your choice, seal it on-site with a tabletop seaming machine, label it for easy identification, and you're good to go.
This isn't DeCicco's first experience with craft beer on-the-go. "We were the first to do Growlers in Westchester almost 10 years ago, so we are continuing the tradition of being the first with Crowlers," says Chris DeCicco.
If you're not familiar with a Crowler, it is a 32-ounce pop-top aluminum can that keeps your draft beer sealed and fresh, retaining its peak taste, flavor, and carbonation until you're ready to pop the top. An added plus: Crowlers also happen to be completely recyclable. Compared to their predecessor Growlers, Crowlers are less expensive, more portable, and more easily disposed than a glass jug Growler.
As Chris explains, "Since they're made of aluminum like any beer can, Crowlers are inexpensive, durable, portable, recyclable, and perfect for bringing to a party or barbecue. So far this summer, I've brought Crowlers to every barbecue I've been to."
Adds Joe DeCicco, Jr, "There are a lot of packaging ideas that trend for a short time in the beer industry, but once I caught wind of Crowlers, I thought they were a brilliant way to take tap beer home. Crowlers are here to stay, and we're proud to be at the forefront of that movement." Introducing Crowlers to its Armonk and Brewster locations put DeCicco's on the map as the second location in New York State to offer Crowlers and the first in Westchester and Upstate New York.
With 28 rotating draft lines on tap in the Armonk store (16 at DeCicco's in Brewster), there are plenty of options to choose from, including Westbrook Mexican Cake and Founders 2014 KBS, for example. While you're at the Gastropub, pair that beer with made-to-order brick oven pizza—to-go for your event or immediate on-the-spot dining. And don't pass up the seasonal produce, fresh seafood, extensive meat selection, wide array of specialty cheeses, hot prepared gourmet deli station, and bakery brimming with house-baked goods.
Filling your Crowlers isn't the only exciting surprise at the Armonk DeCicco's. The two-story contemporary, innovative market (one of five DeCicco's Westchester locations) is also a destination for Bocce at the on-site mezzanine Bocce court right across from the Gastropub.
The latest stop for the Crowler: the craft beer filling station at DeCicco's Ardsley store (21 Center Street, Ardsley). For even more fun, post your Crowler pictures on Instagram with the hashtag #DeCiccosCrowler and enter to win $10 off your next Crowler fill!
See Source Article