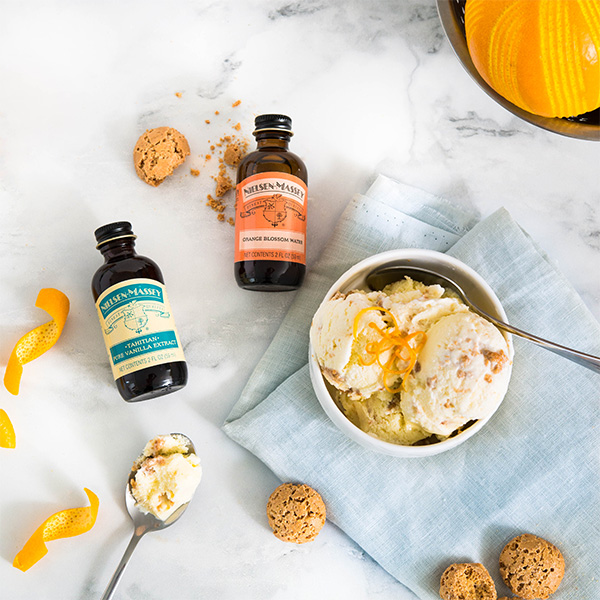 NIELSEN MASSEY ORANGE BLOSSOM WATER
20 min prep, 10 min cook, 1 qt yield
Ingredients:
5 large egg yolks
2 1/2 cups whole milk
1/2 cup heavy whipping cream
1/4 teaspoon salt
1/2 cup granulated sugar, divided
2 teaspoons Nielsen-Massey Tahitian Pure Vanilla Extract
1 teaspoon Nielsen-Massey Orange Blossom Water
1 cup amaretti cookies, crushed
Directions:
1. Place the yolks in a large mixing bowl. Cover the bowl with plastic wrap and set aside until ready to use.
2. In a medium pot, bring the milk, cream, salt, and 1/4 cup of sugar to a rolling boil, stirring continuously.
3. Whisk the remaining sugar into the bowl of yolks until smooth. Gently temper the yolks by slowly adding the hot milk mixture, while whisking constantly. Place the bowl of gelato base over another bowl of ice water and stir until cooled to room temperature. Add the vanilla extract and orange blossom water to the gelato base and stir.
4. Freeze the mixture in an ice cream machine according to the manufacturer's directions until gelato has a smooth, soft-serve-like texture. Remove the gelato from the machine and fold in the crushed amaretti cookies . Transfer the gelato to an airtight container and store in the freezer for about 12-24 hours before serving.