WRITTEN & PHOTOGRAPHED BY BRENDON O'BRIEN
DECICCO & SONS CRAFT BEER & BAR DIRECTOR
---
There are few pleasures as rich and fulfilling in life as a jaunt in the woods. The thrill of climbing a precipice to discover the ultimate vantage point, high above the treetops where the air seems to sit on your skin like a cool bedsheet, is a defining moment in life. The brief minutes when you can rekindle your love affair with nature and disconnect from the infinitely plugged-in life we all lead are an important recharge for the soul. Equally as important are the refreshments you bring along on your journeys – the cold drink or snack that you enjoy while bird watching on a rockface. The next time you hit the trails be sure to pack one of our favorite hiking snacks and let a waterfall be the backdrop for your perfect day or a mirror still pond reflect you in the great outdoors.
---
Krave Beef Jerky – Based out of the bountiful and beautiful hillsides of Sonoma County, California; Krave has been at the forefront of culinary inspired jerky since 2009. Their unique technique allows for a tender jerky that won't feel like an exercise to eat. Their products range from a Pink Peppercorn Beef to Basil Citrus Turkey to Black Cherry Barbecue Pork Jerky. Truly something for every meat lover on the trails.  High in protein, low in fat and made with real ingredients this snack is hard to beat for a grab and go situation. Pairs well with open meadows and wild flower patches.
---
Clif Bar Energy Bars – One of the classic trail snacks and for good reason – these dense and chewy energy bars are not only chock full of protein and sugars from organic ingredients, but they are as delicious as a slice of birthday cake.  With a range of flavors from Carrot Cake to Apricot to Chocolate Brownie there is a bar for every hiker's sweet tooth. Clif Bars were a labor of love for founder Gary Erickson who had an epiphany on a 175-mile bike ride – that energy bars could be nutritious AND taste good! Gary spent the next two years making a mess in his mom's kitchen perfecting the recipe for his original Chocolate Chip energy bar. For this, we thank him (and his mom)! Easy to slip into a back pocket when you want to hit the trails but not carry a day pack.
---
PB&J – The taste of childhood that delights you well into adulthood, Peanut Butter & Jelly sandwiches are easy to make, travel well and really hit the spot after a long day of trailblazing. For something really special use Bakerly Sliced Brioche as the foundation for a great sandwich.  It's decadent texture, egg washed crust and slightly sweet flavor profile is amazing. We really treated this bread right by giving it a healthy coating of Woodstock Smooth Organic Peanut Butter & Sir Real Red Raspberry Jam – a match made in heaven! For overnight trips, PB&J's make a perfect meal or snack any time of day, just remember to tie your food bag up high away from camp! Bears know how good this stuff is too…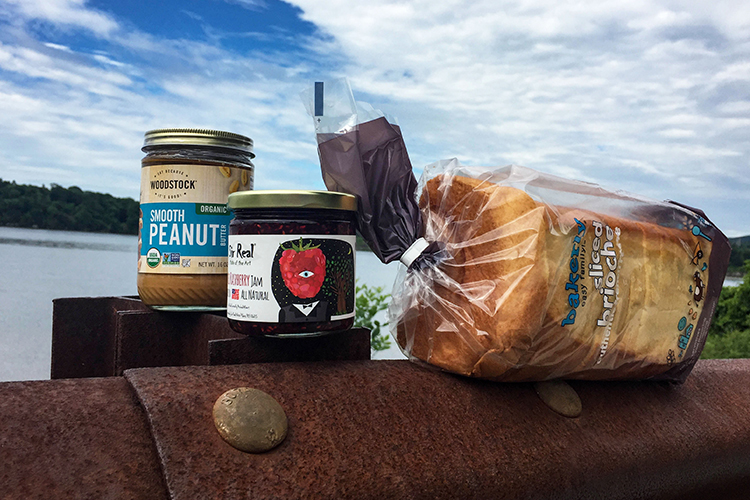 ---
DeCicco & Sons Wasabi Wow Mix- A combination of flavors unlike any other! This mix is a burst of energy for not only you but also for your palate! Sweet golden raisins and dried cranberries come to life when complimented by the heat of wasabi peas and the crunch of peanuts and almonds. Be forewarned that this mix is so delicious you won't want to share with your hiking pals. If heat & sweet is not your thing be sure to try our range of trail mixes, recharging hikers everywhere one handful at a time! Pairs perfectly with sunsets and warm breezes.
---
Natierra Organic Freeze Dried Tropical Fruits – A new edition to our hiking pack, these freeze-dried fruits are super light in weight for the climber looking to lighten the load. What they lack in heft, they more than make up for in flavor. I imagine this is the food that astronauts wish they were eating in space. These bite sized fruit pieces are crunchy but still retain the pleasing texture of fruit as they reconstitute in your mouth. They are also great in your morning oatmeal if you're one of those hikers that always carries a camp stove.
---
Sabra Snackers Hummus with Pita Chips – Admittedly my favorite snack on earth, hummus always finds a way into every picnic, bbq or party. These Snackers from Sabra allow you to take this chickpea dip into the woods with you. Sabra hummus has a smooth and creamy texture and flavors that incorporate great compliments like red pepper, olive tapenade and garlic.  Served with just the right amount of pita chips to scoop up every last drop, these are trail approved. You will be the envy of every trekker passing by.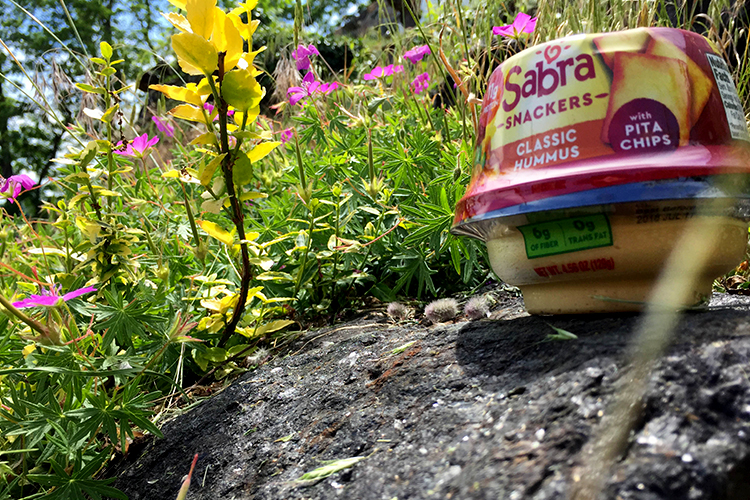 ---
Captain Lawrence Powder Dreams – As if the climb itself was not reward enough, take that hike to the next level by enjoying a Captain Lawrence Powder Dreams as you take in a landscape as beautiful as this beer. Our favorite fermenting friends have really dialed in this juicy, citrus laden elixir. Dry Hopped with Citra and Centennial Lupulin Powder and Bravo hops, this IPA is layers of quenching flavor. A good post-hike choice is going straight to the source for your beer, as Captain Lawrence is conveniently located near a bevy of awesome hikes – Cranberry Lake Preserve being one of the favorites. There is nothing like recharging the soul with some fine ales and good people!
---
The next time you hit the trails be sure to load up on our favorite hiking snacks and enjoy a beautiful day in nature!  We have plenty of other snack options from our bountiful produce section to a wide array of cheese and charcuterie, allowing you to truly play up the classiness of your next adventure. Remember to always pack out what you pack in and leave no trace! See you on the trail!