August Brand Spotlight: Trax Coffee
Written by our Craft Beer Director and Merchant of Joy, Brendon O'Brien
I remember my first cup of cold brew coffee like it was yesterday. It was one of those transformative moments in my coffee journey where I reflected on every sip as something bold and new, like I had just discovered the answer to a math equation up on a chalkboard that had perplexed everyone. Each nuance of berries brighter than the last, nitrogenated foam clinging to my mustache, I was standing in the middle of Bank Square Coffee House in Beacon, NY in 2013.
Lo and behold I am here all these years later still reflecting on that moment and with the distinct pleasure to know the people behind the operation that first introduced me to a style of coffee I had never experienced until that moment. Katy and Leonard Behney are the Beacon native, husband and wife team that provided this experience and so many more for the caffeine-craving foot traffic of this beautiful Hudson Valley town. The Behneys first set up shop with Mountain Tops Outfitters, a plentiful outdoors shop that served the many locals and visitors heading to Beacon for their abundance of overly scenic outdoor activity. However, Katy was smitten with the idea of taking over the coffee house across the street and making it all their own- a place where quality beans would be expertly roasted and served by trained baristas to show the masses the coffee she and Leonard loved so much.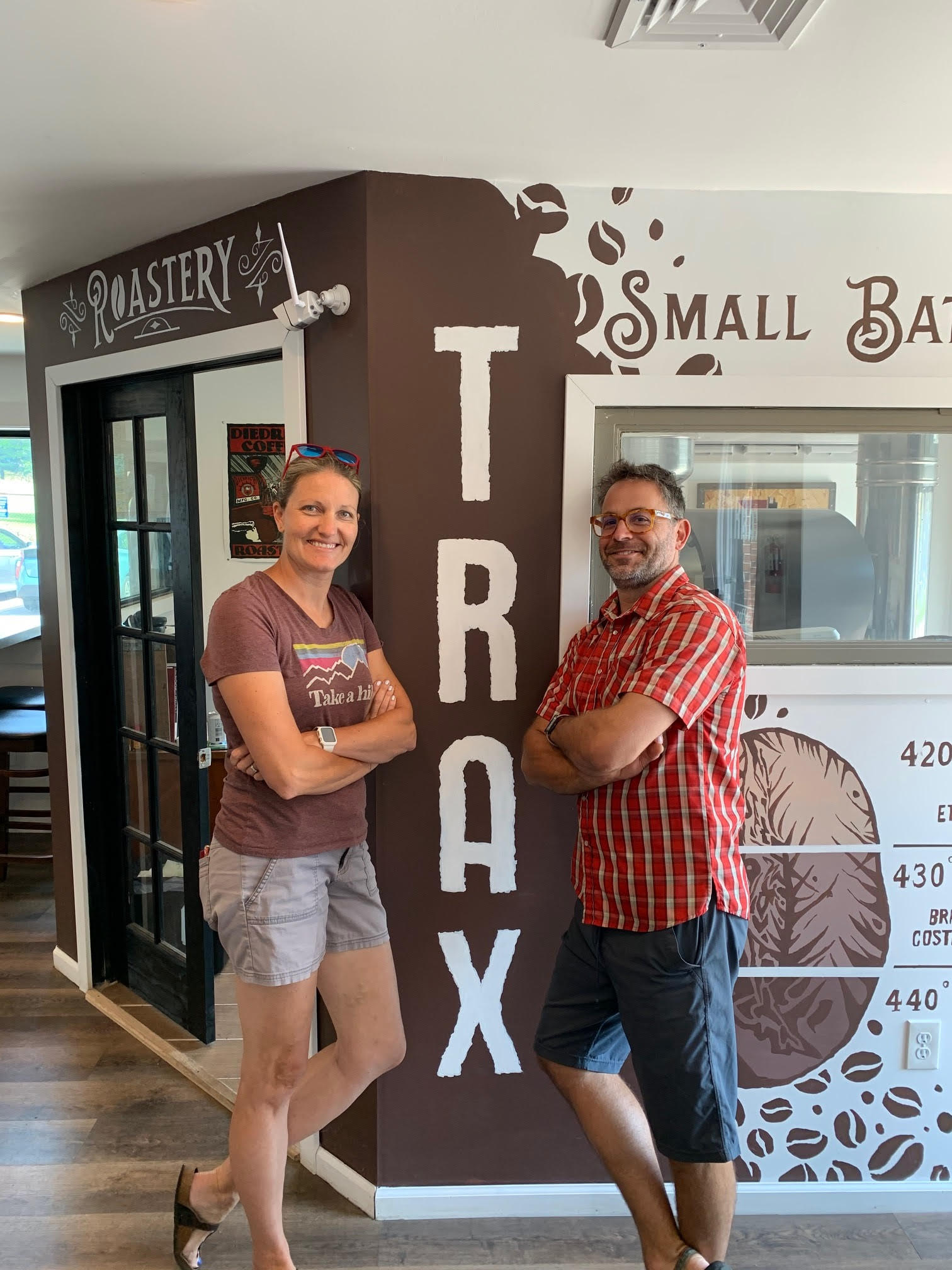 It was around this time that the Beacon duo partnered with the venerable Coffee Labs Roasters in Tarrytown to supply them with some of the best coffee in the Hudson Valley. The business continued to flourish and the Behneys became the must visit coffee shop on Main Street. Naturally, a desire to become more hands on emerged and Leonard began to experiment with roasting the beans himself. Working on a 6 pound San Franciscan roaster in a small office behind their outdoors store, he honed his skills and developed their own roasting program. A program that led to the opening of the couple's third Beacon location- Trax Espresso Bar & Coffee Roasters around 2018.
DeCicco & Sons began our partnership with Trax Coffee Roasters around this time, featuring their full pound coffee varietals on the shelves of our stores. I immediately became enamored with a Brazilian Natural Processed Peaberry they had- brewing it every possible way I owned equipment for, before deciding I liked it best as cold brew. Things had come full circle. Trax has become a cornerstone of our local coffee section and it would be foolish to think their success ended there. During the height of the Covid Pandemic, Leonard and Katy took on yet another venture- this time building a proper roastery and café just outside the main drag of Beacon. A perfect little brick building that pumps the smell of freshly roasted coffee onto the patio where visitors sit at picnic tables and take in the sights of the local mountains.
The new roastery features a 20 pound Diedrich IR-12 Roaster capable of supplying all the freshly roasted beans one could ask for. The Behneys commitment to sustainability and green practices is clearly on display in their latest location. Solar panels on the roof provide over 75% of the electricity used for roasting, bagging, and serving coffee. They even have invested in an electric car that takes care of all the local deliveries and is charged off the very same solar panels. It is this commitment to coffee excellence and responsible business ownership that has earned them a spotlight.
When Katy and Leonard aren't drinking their respective whole milk lattes and espressos, they are on a quest to find great coffee wherever they travel. Always searching out great, freshly roasted coffee to accompany them on their adventures. Be sure to visit DeCicco & Sons to pick up a full pound from Trax Coffee Roasters as we feature them all summer long or stop by one of their many inviting places next time you are heading north in the Hudson Valley!
Featured Bean: Trax Coffee Roasters Guatemala Huehuetenango
Organically Grown and Fair Trade from the famed highland Huehuetenango region of Guatemala. This coffee boasts cocoa, hazelnut and red grape notes. A V60 pour over provides a medium bodied cup that delivers layer after layer of chocolaty, nutty perfection. Best served in a mug with a witty saying on it while sitting on a balcony overlooking the Hudson River.