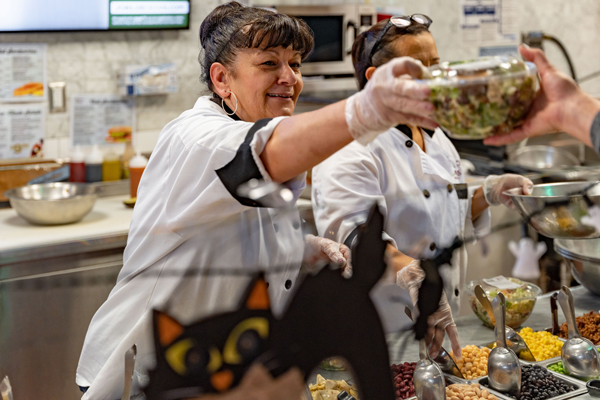 Posted on February 11, 2016
in
News
The Westchester Grocery Industry Is Dramatically Changing
Judy Shampanier finds herself doing more and more of her grocery shopping at DeCicco & Sons in Pelham these days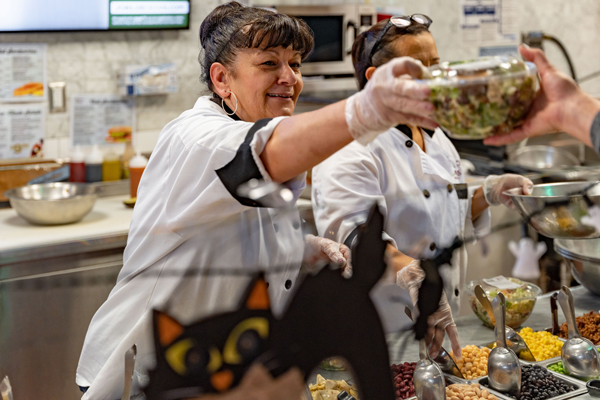 "The selection is decent; the produce is good; the service is beyond!" says the attorney from Pelham. Each time Shampanier has made a special request—whether for Amy's frozen vegetarian burritos, King Arthur flour, or Ghirardelli chocolate chips, the store has added her selections to its shelves within days. DeCicco's even signed up a new distributor, to get the brand of cookies-and-cream ice cream Shampanier's daughter wanted.
Shampanier sometimes hits Whole Foods, Trader Joe's, and Fairway for specific items, but as DeCicco's expands its selection, it keeps pulling her back. Still, she's happy for the wealth of grocery options in Westchester. "There is a tremendous amount of competition, which is good," she notes.
Competition is an understatement for what is happening in Westchester County's grocery scene—a microcosm of trends sweeping the country. "It's extremely competitive in every area, not just Westchester," says Jim Keenoy, director of marketing and external communications at Stop & Shop New York Metro.
With profits down for traditional grocery stores nationwide, some big chains are trying to expand their footprint, especially into communities where other stores are doing well. In the wake of A&P's bankruptcy, for instance, Stop & Shop, which now operates 14 stores in Westchester, acquired a former A&P in Mount Kisco and opened it in November 2015. Meanwhile, ACME Markets, a subsidiary of Albertson's, announced in October 2015 it was going to purchase 16 stores owned by A&P in Westchester. Two months later, however, ACME pulled out of buying four stores (Yonkers, Millwood, Bedford, and Croton-on-Hudson), which meant the stores were headed for auction. Since then, Key Food bid successfully for A&P's Port Chester store and the Food Emporium in Bedford, and Best Yet Market bought an A&P in Yonkers. Foodtown now operates the former Croton-on-Hudson A&P, while ownership of the Millwood store was still up in the air as of presstime.
Spotlight on Specialty Stores
But supermarkets increasingly must try to pry customers' attention from specialty stores such as Whole Foods and Trader Joe's—America's favorite grocery store for the third year in a row, according to an May 2015 survey by Market Force Information, a customer-intelligence firm in Louisville, Colo.—along with a host of local specialty markets like DeCicco's. Both Whole Foods and Trader Joe's each run three stores in the county, and Whole Foods plans to open a fourth, in Chappaqua, in 2017. That has set the bar high for competing local players, such as Stew Leonard's and Mrs. Green's, which closed a 20,000-square-foot store that sold organic, natural, and local foods in Hartsdale in November 2015. Mrs. Green's has been in the midst of redesigning its stores to highlight its natural fare and improve the customer experience, a project that has included its Rye location. Also planned are a new Mrs. Green's in Dobbs Ferry for 2016 and fresh looks for the 14 other area stores.
People of all income levels are also gravitating to higher-end groceries, according to Jeff Cohen, CPA, partner at accounting firm Grassi & Co., who works with clients in the food-and-beverage industry. During the Great Recession, American consumers cut back on restaurant-going and began embracing home cooking, he says—something which boosted the amount of supermarket and specialty shopping among consumers.
Even with the economy doing better, that trend has continued. "If people are on a budget, they may go to a Stop & Shop or a club store like BJs," explains Cohen. "But a lot of people who are no longer spending $150 to $200 to go out to dinner on Friday have no problem spending an extra $75 on high-quality imported food. That's the big change in the food industry."
The foodie trend, promoted everywhere from the Food Network to friends' Facebook pages, has also stoked interest in better quality groceries among shoppers at all income levels.
"Shoppers are sharing recipes via the Internet, Pinterest, and social media," says Joe DeCicco Jr., who runs DeCicco & Sons, a group of six stores from relatives of the owners of DeCicco Family Markets. "People want an interesting experience when they come to the store. They want to see something they've never seen."
That demand has DeCicco's embracing ideas like juice bars, which the chain rolled out at its Armonk store and at its newest location in Larchmont, which opened in December. That's in addition to a craft beer bar, where shoppers can enjoy brews made in collaborations with local brewers, an idea that has been a hit in the chain's Armonk store. The trend also has shoppers like Tuckahoe resident John Goodman raving about the new space at Port Chester's Tarry Market, where customers can grab a bite. "Their roast beef on a roll is so good, it makes you cry." The market is owned by celebrity restaurateurs Mario Batali and Joe Bastianich, who are also behind Manhattan's Babbo, Del Posto, and Casa Mono restaurants.
The Shopping "Experience"
Bigger chains are also working to make shopping more entertaining. Shampanier, for instance, loves the cheese selection at Fairway Market in Pelham Manor. "The Fairway cheese counter is exciting, elaborate; there's theater to it," she raves. Fairway isn't alone in catering to foodies' growing passion for cheese. Stew Leonard's recently announced its expanded Cheese Shoppes, with additional global specialty offerings.
And chains like Whole Foods, which can afford specialized expertise on staff, are turning it into a selling point. "We're still offering real trained butchers, fishmongers, cheesemongers," says Michael Sinatra, a Whole Foods spokesperson. "Our prepared food departments have real chefs in our kitchens. There's a different level of product knowledge." Whole Foods is also bringing in outside guests to pull healthy eaters into its markets. In December, for instance, the Yonkers store hosted a talk by holistic health author Jeanne Ricks on "Winning holiday eating strategies." Luring customers to stores with special events is also a trend embraced at Tarry Market, which is planning an upcoming olive oil tasting with Nicholas Coleman, an olive oil specialist from the gourmet-market chain Eataly.
At the same time, stores such as Whole Foods have responded to a push for lower prices. In 2016, the chain plans to begin rolling out its 365 by Whole Foods Market stores on the West Coast, says Sinatra. The company's website claims they will bring "fresh, healthy, and affordable food to more people in more places, every day."
All of this ante upping has pushed less glamorous stores into extinction. "A&P, it's like a dinosaur," explains Cohen. "Markets change; people want better quality at reasonable prices." Even stores such as ShopRite, which customers lauded for its deals in the 2015 Market Force survey, are seeing declining popularity. The New Jersey-based chain sank to the eighth-most-popular store in America, down from second in 2012.
To gain an edge, many local stores, both large and small, are tailoring their offerings to their zip codes. "Our main strategy is to customize the offerings, where possible, to the local neighborhoods—and promoting our natural and organic lines," says Stop & Shop's Keenoy.
This has not gone unnoticed by shoppers like Sharene Jones, a food coach in Pelham who offers her clients guidance on healthy eating. She was impressed on a recent visit to Stop & Shop in Mount Vernon by the many options from the Caribbean Islands and alternative types of flour, such as tapioca.
"I was blown away by the breadth of ethnic foods they have," Jones says.
Stores in Westchester are also embracing the "buy local" trend—particularly Whole Foods. Whole Foods' Westchester stores stock baked goodies from Greyston Bakery in Yonkers, Captain Lawrence beers from Elmsford, Hard Crack toffees from Port Chester, Lola Granola bars from Croton Falls, and personal-care products from Weleda, which has its North American office in Irvington.
Many stores are also embracing shoppers on special diets, whether vegan, vegetarian, gluten-free, or Paleo. "For us, in almost every category, you have to have a conventional choice, you might have an organic, natural choice, and there might be a gluten-free choice," says DeCicco. "It's tough for us because space is tight, and we're not a dedicated natural-foods store."
But grocers know they have to keep up. Otherwise, "customers can go to a lot of different places for food," says Sinatra.
See Source Article