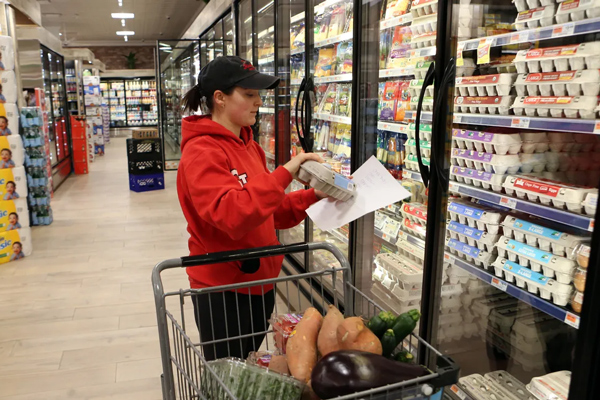 Posted on March 7, 2017
in
News
Upscale supermarkets take shopping to 'another level'
'We believe there is a demand for great food,' said a spokeswoman for Balducci's, which recently opened a second area location in Rye Brook.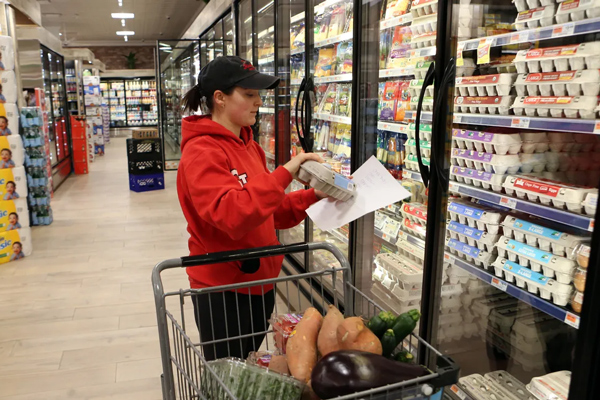 Akiko Matsuda
Until recently, Nicole Mahig of Millwood never shopped for groceries in her hamlet. Instead, she drove all the way back to her old neighborhood in Yonkers and went to Whole Foods at the Ridge Hill shopping center.
But Mahig, 24, who is a first-grade teacher in the Bronx, is making some changes to her routine since a new DeCicco & Sons store opened in late December at a former A&P supermarket site just two minutes away from her home.
"I still like Whole Foods better, but this is just really convenient," said Mahig, as she picked out items such as rainbow carrots, tomatoes on the vine, and organic chicken thighs in the gut-renovated Millwood store. "They have nice quality food here."
The grocery shopping landscape in the Lower Hudson Valley has gone through a major upheaval in recent years, at a time when both people's grocery shopping habits are changing and the region is gradually recovering from the recession.
Middle of the market chains like Acme, Key Food, Foodtown, and Stop & Shop have expanded their local footprint, moving into spaces left behind by A&P after a July 2015 bankruptcy filing. More notably, upscale markets loaded with fresh, organic and prepared food items are looking to extend or establish a presence in the Lower Hudson Valley, where shoppers are seeking both quality and convenience.
One example of that trend is in Rye Brook, where a D'Agostino supermarket location was recently reborn as Balducci's, an upscale food retail chain that has had its presence in Scarsdale since 2004.
"Wealthy people are wiling to pay for higher quality and for convenience And you see a lot of folks that are very focused on a value."
– Joshua Benn
"We believe there is a demand for great food, and our market offers an environment which allows food lovers to immerse themselves in our signature food experience, every time they enter our doors," said Judith Spires, chairman and chief executive officer of Balducci's, in a statement.
Fairway Market, Whole Foods Market and now Wegmans are other notable players on the local scene.
"Like every category in retail, the whole (grocery) market is bifurcated between the high-end and the value-end of spectrum," said Joshua Benn, a managing director for Duff & Phelps, a business valuation firm that issued the Food Retail Industry Insights 2016 report. "Wealthy people are willing to pay for higher quality and for convenience. And you see a lot of folks that are very focused on a value. … If you are in the middle, like D'Agostino was, it's extremely hard to differentiate yourself."
Quality first
Chris DeCicco, co-owner of the DeCicco & Sons grocery company, said he saw a dearth of quality food markets in the region more than a decade ago. He opened the company's first store in Ardsley in 2005, along with his brother, John DeCicco Jr., and his cousin, Joe DeCicco Jr.
In doing so, the trio, who were all in their 20s at that time, separated themselves from the successful family grocery chain that their fathers and uncle started 45 years ago. The trio's fathers — John Sr. and Joe Sr. — eventually joined their sons' business, while their uncle Frank DeCicco and his family separately run six stores in Westchester, Rockland and Orange counties under the name of DeCicco Family Markets.
"Don't get me wrong: They provided services and everything. They always had great products," Chris DeCicco said of the original family chain. "But we wanted to step up to another level."
"People care so much now about what they put in their bodies. They really want to know where their food is coming from and how it's been treated or grown before it gets to them," Chris DeCicco said. "Any of the beef, the pork, the chicken, they want them to be humanely raised without antibiotics and hormone-free. They want to know which farm they are from."
Responding to shoppers' requests, DeCicco & Sons established relationships with local farms, and in 2014 its stores stopped selling meats that are not antibiotic- and hormone-free.
"'Why should we sell it to our customers when we don't give it to our kids?' — this became our philosophy. We would never sell something that we wouldn't eat," DeCicco said. "It goes to all the departments."
Loren Fisher, 73, of New Castle, a frequent shopper at DeCicco's Millwood, said in addition to top-quality food items, he appreciates the store's service.
"Their staff are terrific, much more customer-oriented than probably any other stores," Fisher said.
Location, location
Just one year before the Millwood store's opening in December, DeCicco & Sons opened its sixth store in Larchmont, bringing back a grocery store to the strip mall on Palmer Avenue that once housed a Daitch Shopwell supermarket and later an A&P market. Immediately before DeCicco & Sons' arrival, the place was a home for The Guitar Center.
Fairway Market, once only Manhattan-based, opened up a store in Pelham in 2010 and Nanuet in 2013. The store is known for its prepared foods, large produce and seafood selection, and specialty gourmet products. Whole Foods Market, which had maintained its lone Westchester store in White Plains for years, opened its second in Yonkers in 2011 and the third in Port Chester in 2013. The store markets itself as featuring "foods that are free of artificial preservatives, colors, flavors, sweeteners, and hydrogenated fats," with a heavy emphasis on organic items and a large prepared food section. And Trader Joe's, a grocery-chain known for its cult-like followers and in-house brands, is expanding in Hartsdale.
Martin Deitch with Aries Deitch & Endelson, a Hartsdale-based veteran retail real estate broker, said grocery stores are becoming increasingly attractive tenants for strip mall owners.
"The internet is affecting all aspects of retail. But people still like and need to touch and feel and look at their food as opposed to ordering online," Deitch said. "Supermarket-anchored shopping centers are probably the most valuable asset out there because it brings out people once a week."
"It's such a competitive industry. You really have to keep innovating and improving your stores."
– Chris DeCicco
Even so, finding the right location for a new store hasn't been easy, said Chris DeCicco. He said he and his co-owners looked at several former A&P stores for potential new locations, but the only property that made sense was the Millwood site, where they were able to negotiate their own 30-year lease.
"Supermarkets work in a very small margin, so we can't afford to pay some crazy rents that some other types of store can. It's not easy to find a location that makes sense," he said. "Obviously, this area is very well developed, so there's not many new developments opening up. You have to pretty much look at existing locations."
And when opportunities arise, grocers grab them.
Wegmans is proposing to build a 125,000-square-foot store and a 8,000-square-foot separate retail store at a 20-acre site on Corporate Park Drive in Harrison; the plans are currently being reviewed by the Harrison Planning Board.
The Rochester-headquartered supermarket chain — which was named America's favorite grocery retailer last year in the Market Force Information survey — has a methodical way of selecting a site, said Jo Natale, vice president of media relations, noting that the company prefers a large parcel that is centrally located in a densely populated area.
"We were always interested in Westchester County, but it was really just now we found the site that met our criteria," Natale said.
Whole Foods Market is building its fourth store in Westchester as part of the ongoing Chappaqua Crossing development at the former Reader's Digest property. The store is slated to open mid-to-late 2018, said Michael Sinatora, a Whole Foods spokesman.
DeCicco & Sons also has a plan to open another new, 19,000-square-foot store at the proposed Somers Crossing mixed-use development near the intersection of Routes 100 and 202 in Somers. The plans are being reviewed by the town.
Chris DeCicco said because his stores have adopted the "quality first" concept years ago, they are well positioned to stand against new competitors.
"We'll do very well, while if we had stuck with a traditional supermarket that our dad had 20 years ago, it would have been much harder to compete. We've stayed ahead of the curve for sure," he said.
"It's such a competitive industry. You really have to keep innovating and improving your stores."
See Source Article